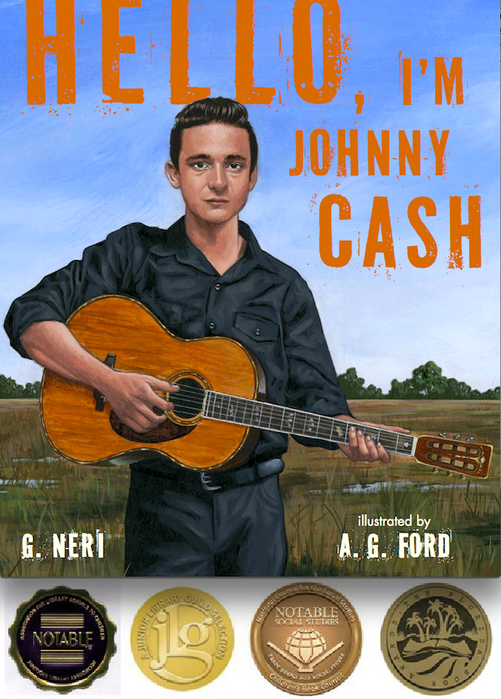 Hello, I'm Johnny Cash by Greg Neri Illustrated by AG Ford
Available September 9, 2014
-ALA 2015 Notable Children's Book Selection
-Society of Illustrators Selection "The Original Art 2014
-School Library Journal Best Books of 2014 list!
-Silver Medal Florida Book Awards

A stirring look at the early life of Johnny Cash, from his harsh but music-filled childhood to the first flush of stardom.

There's never been anyone like music legend Johnny Cash. His deep voice is instantly recognizable, and his heartfelt songs resonate with listeners of all ages and backgrounds. G. Neri captures Johnny's story in beautiful free verse, portraying an ordinary boy with an extraordinary talent who grew up in extreme poverty, faced incredible challenges, and ultimately found his calling by always being true to the gift of his voice. A. G. Ford's luscious paintings of the dramatic southern landscape of Johnny Cash's childhood illuminate this portrait of a legend, taking us from his humble beginnings to his enormous success on the world stage.
Reviews-
-A Junior Library Guild Selection
-Kirkus Review (STARRED)
The narrative is well-researched, age-appropriate and beautifully expressive. The exquisite oil illustrations capture the setting and the emotion of each poem, allowing readers to feel as if they are there with J.R. as he works the harsh Arkansas fields or in the audience as Johnny whips the crowd into a frenzy plucking out his tunes on the guitar. An exceptional portrait of one of the most recognizable musicians of all time.
-Booklist Review (STARRED)
Though Johnny Cash might not be the most familiar name to the audience of this picture-book biography, Neri and Ford do an impressive job of painting a portrait of the Man in Black that emphasizes his hardscrabble beginnings and lifelong love of music. Avoiding the harsher parts of his life&mdashsuch as his bouts with drug addiction, which are mentioned in a closing author's note&mdashNeri focuses on Cash's inspiring innate talent and scrappy determination to make it in the music business. On each oversize, two-page spread, Neri's straightforward free-verse lines describe a pivotal moment in Cash's life that contributed to his love of music. Working in perfect concert with the words are Ford's full-bleed, soulful oil paintings, which lovingly capture emotion&mdashserenity in Cash's beatific face when he sings along with the radio; rapture when he hears June Carter sing for the first time. In a smart cross-platform move, each spread is titled with the name of a Cash recording that matches the mood of the moment, adding a meaningful musical complement to the already moving story. Parents eager to share Cash's signature boom-chicka-boom rhythms with their kiddos will appreciate this eloquent introduction to the iconic musician. &mdash Sarah Hunter


-Publishers Weekly Review
The boy who became Johnny Cash was born so impoverished that his first name was just two initials, J. R., "that stood for/ nothing." But, in fact, Johnny Cash had two extraordinary possessions: a voice "as smooth and deep/ as the Mississippi itself" and a gift for writing songs that had a hypnotic, plainspoken intensity. In free-verse poetry and images that recall the emotional directness of WPA murals and photography, Neri (Ghetto Cowboy) and Ford (Under the Same Sun) follow Cash from the grinding poverty and tragedy of his early years to the invention of his signature "boom-chicka-boom sound" and his breakthrough hit, "I Walk the Line." The images consistently strike a haunting chord&mdashespecially a twilight scene on a country road in which Johnny hears his first song on the car radio ("John couldn't believe/ that was his voice/ going out over/ the airwaves"). Readers will best appreciate this biography after hearing some of Cash's music&mdashand they won't want to stop after hearing his story. Ages 9–12. Author's agent: Edward Necarsulmer IV, Dunow, Carlson & Lerner Literary Agency. Illustrator's agent: Steven Malk, Writers House. (Sept.)
-School Library Journal Review
Even those who aren't fans of musician Johnny Cash will appreciate the beauty of this biographical picture book. Written in free verse, with colorful, realistic illustrations done in oil, this title poignantly portrays the powerful influences of poverty, religion, family, and music on Cash's life. When Cash was too young to work in the cotton fields, his father bought him a radio to keep him company. The boy could never turn it off, learning hundreds of songs that he sang to anyone who stopped by to listen. It became clear he had a gift that was meant to be shared with the world, but hard work to earn money for the family and a stint in the Air Force delayed that dream. This is a biography of one musician as well as a tale of how the determination to pursue a dream can pay off. The oversize format suggests Cash's larger-than-life impact and image, but it also pulls readers in. Additional information is provided at the back, including more in-depth details about his life, a discography, and the ways in which the sociopolitical eras he lived through, such as the Great Depression and the birth of rock 'n' roll, impacted his music. This is a real tribute to the Man in Black, written in an easily accessible, engaging manner that demonstrates the qualities he possessed that make him a hero to so many.–Maggie Chase, Boise State University, ID