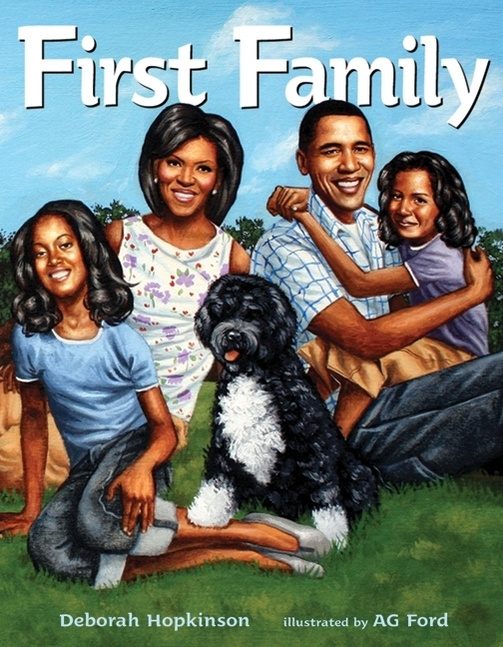 First Family by Deborah Hopkinson Illustrated by AG Ford
At work, at play, at home, in the White House.

The White House is a museum, the office of the chief executive, a gathering place for leaders and visitors from around the globe, and it is also a home for one special family&mdashthe First Family.
This book follows a day in the life of the Obama family: President Barack, First Lady Michelle, First Daughters Malia and Sasha, and even First Pup Bo. From moving in on inauguration day to making important decisions, hosting state dinners, planting a garden, exploring the historic house, and leading around the Secret Service, the First Family is very busy.
Deborah Hopkinson and AG Ford take young readers through an extraordinary ordinary day in the life of America's much-beloved First Family.
Reviews-
School Library Journal-
Kindergarten-Grade 5&mdashLife in the White House captures the interest and hearts of America, and this book brings the Obama family into focus with fun details and realistic artwork. Starting with Inauguration Day, activities such as doing chores, eating dinner, and exercising show the Obamas' everyday routine. The artwork is expressive and nuanced in capturing the personalities in the family. The book ends with a statement that nicely summarizes their priorities. "For the Obamas, it's clear that just being together every day with the ones they love is the best part of all." Neat facts such as growing a garden on the South Lawn and playing with Bo the Portuguese water dog make this first family unique. Malia and Sasha are the main feature of the book, and they are shown getting to know the White House better by going on a scavenger hunt, going to school with their grandmother and secret service, and playing hide-and-seek in the hidden door and staircase. Facts about the White House and former presidents are incorporated seamlessly into the text.&mdashRachel Artley, Watertown Elementary School, TN

Children's Literature - Carlee Hallman
The Obama family is shown on Inauguration Day, moving into the White House, and in their daily lives. On moving day, the staff planned a scavenger hunt, "to help Malia and Sasha learn their way around the 132 rooms of the grand historic mansion." Michelle's mother, Marian Robinson, also moved in to help with her grandchildren. She often accompanies them as they are driven to school by a Secret Service agent. Malia and Sasha have chores and make their own beds. Although very busy, the president and First Lady are not too busy to exercise. The girls were happy when their dog Bo arrived. The President works at a special desk made from a British ship. Michelle Obama has her own office on the other side of the White House. The family likes to eat together and share their day. At the back are facts and trivia about the White House and families who have lived there. The colored illustrations look like the family that we see in photographs. This is a nice introduction for children to what life in the White House is like for the Obamas. Reviewer: Carlee Hallman