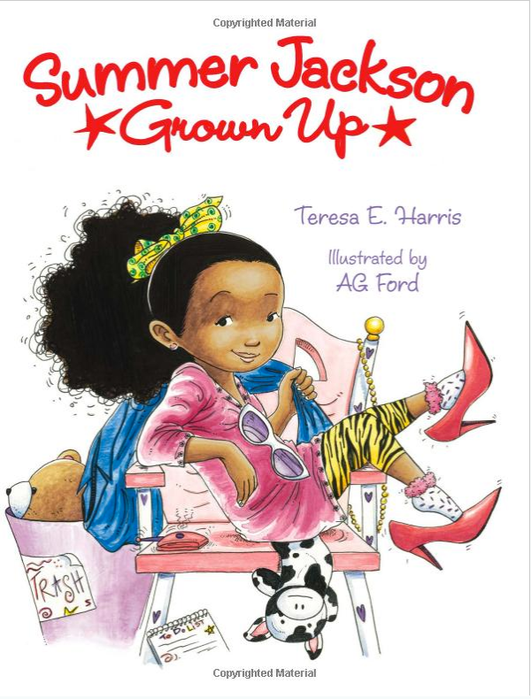 Summer Jackson: Grown Up by Teresa E. Harris illustrated by AG Ford
Meet Summer Jackson.
Summer is fairly certain she's ready to be a grown-up&mdashright now. She wants to wear a blazer, read the morning paper, and boss around a few second graders. Grown-ups have it so easy! But wait, do grown-ups play on swings?
Teresa E. Harris and AG Ford's hilarious story shows that being a kid might not be so bad after all.
Reviews-
Kirkus-
"With a little bit of sparkle and a whole lot of sass, Summer will be right at home with any young girl eager to enter the work world."

School Library Journal-
K-Gr 3&mdashSummer Jackson's parents have always told her that she can be anything she wants when she grows up. The problem is, the seven-year-old does not want to have to wait until then. "From now on, I will wear very high heels with very pointy toes. And maybe a blazer. I'll get a cell phone. It will ring all the time." Summer imagines all of the important things she will begin doing, such as making a to-do list, reading the newspaper over breakfast, and becoming a consultant. But when she meets with several of her clients (fellow schoolmates), and begins to charge them for her services, she runs into a bit of trouble with Principal Cutter, who calls her parents. When they talk things over, her parents agree to let Summer take over the adult responsibilities, which frees them to have some fun. All too soon, the child realizes that being a grown-up is not all its cracked up to be. Ford's charming and humorous cartoon illustrations are liberally sprinkled throughout the book, ranging from three pictures on a page to full-page images. Although predictable, this story should have wide appeal.&mdashMary N. Oluonye, Shaker Heights Public Library, OH